The Light Challenge is a national design competition that was first organized in 2011. This competition challenges student teams (MBO, HBO, WO) to work together with the business community, local governments, and users to develop innovative concepts for sustainable lighting for public space, using darkness as its core value. This allows light in public space to relate to nature, technology, science and biodiversity.
Each edition has its own theme. The theme of 2021/22 is 'Glowing Nature', in which the challenge focuses strongly on innovations in sustainability, health, the use of urban greenery and the local use of energy at a micro level. This perspective may enable us to take a step towards using light in public spaces with help from and/or supported by nature, technology and science, while also providing space for greenery and biodiversity.
A team of students of the Master Digital Design came up with a concept for the area around Buikslotermeerplein in Amsterdam Noord. The prototype was presented and installed at the Floriade, in Almere.
The concept:
"This interactive lighting lamp post is designed for Buikslotermeerplein in Amsterdam Noord. Inspired by the Japanese Peace Lily, it highlights the connection between humans and nature. The LEDs are powered by wind and solar energy. The lamp post transforms the neighbourhood into a safer and more social space through interactivity. When no one is around it saves energy by turning dim. The light becomes brighter as one approach. When someone gets close, a colourful light animation will be triggered."
The team consisted of Paige Lucas-Dean, Michael Verdel, Mohammad Afkhami Khaleghdar, Sheila Guo and Tudor Cora, who took 2nd place in the competition.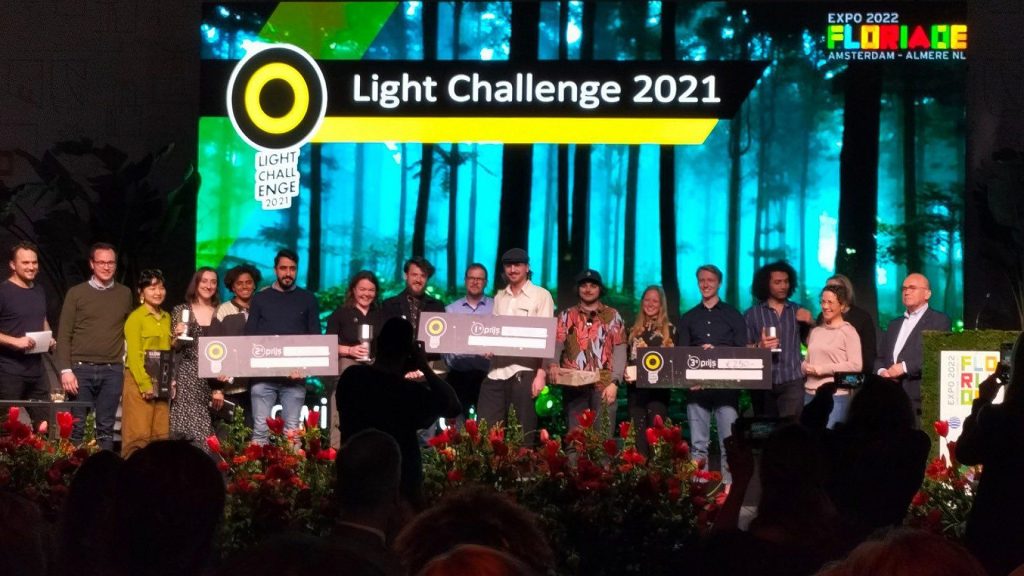 Project Partners: Municipality of Amsterdam, Titia Ex and residents of the neighbourhood of Buikslotermeerplein